Culture
Monday Morning Roundtable: Snow!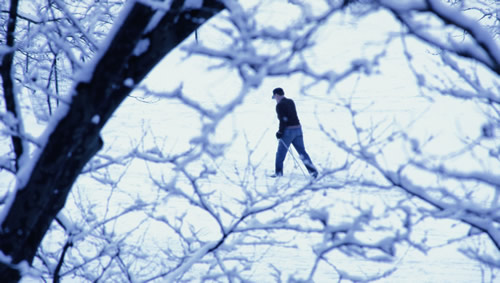 This week, the Heave staff was asked:
There's finally been snow in Chicago. What's your favorite thing to do in the snow?
Chris Osterndorf
My favorite thing to do in the show is not be in it, and stay inside with a drink instead. Don't get me wrong, I still appreciate the childlike wonderment of the first snowfall. However, it's a lot harder to go sledding and build snowmen when you're living in a big city. And while snow is great aesthetically, I'm getting to the point where I no longer enjoy freezing my ass off four months of the year. So call me a cynic, but I plan to do a lot of curling up inside with a glass of whiskey this winter. And you know what goes really great with whiskey? That's right, more whiskey. Should be a fun season.
Mike Haverty
Now that I'm driving through Chicago for work, snowy cities have lost their whimsy. In nursing this negativity, I've found joy in watching people walk on snow and ice as I narrate to myself like Bob Saget on America's Funniest Home Videos. Anticipation is half the fun. The other half is doing the higher, weirder narrative voice for the dogs people are walking. I haven't seen anyone fall yet, but I'm confident it will make for the best day of my life.
Nico Lang
Pee on it.
Dominick Mayer
Sledding. I still miss it, and it gets proportionally more difficult as I get older and realize sleds are not made for men my height, so I kind of sled in the action equivalent of a fetal position. Regardless, it's still entertaining, and unlike skiing or snowboarding, busting my shit on a sled won't severely injure me.