Music
Live review: Andrew Bird @ the Museum of Contemporary Art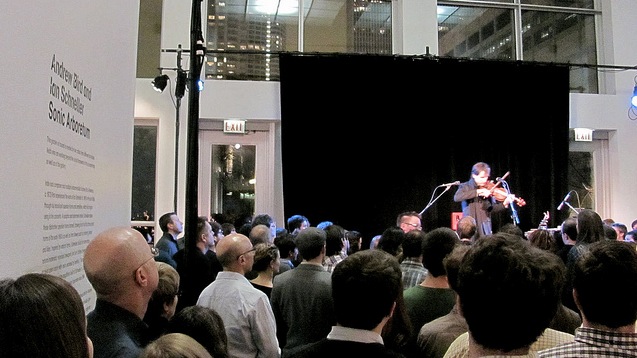 Andrew Bird is one of those live acts that is so much better when it's a solo performance. Don't get me wrong, it's great when Dosh is playing drums with him, but when Bird is up there all by himself the stakes are so much higher. Any mistake on that looping machine and he's toast. The weight of the evening's success is squarely on that one man's tiny shoulders.
Then again, Andrew Bird received a huge amount of visual accompaniment for his shows at the Museum of Contemporary Art this week. The Sonic Arboretum is on display until the end of December, showcasing dozens of whimsical sculptures which were uniquely designed to emanate the music of Andrew Bird. Ian Schneller invented the tulip-like speakers, and Andrew Bird almost always incorporates a handful of them into his live shows. I've seen Andrew Bird play with these amplifiers for years now, but with rows of the speakers stretching throughout the entire floor of the museum's main level, the resulting sensory effect far surpassed my expectations.
One violin loop might be heard from one speaker, while his melodic whistle echoes from a larger horn around the corner. He recorded music to be played at the exhibit during museum hours, but for his live show he treated sold out audiences to a remarkable display of virtuosity and creative ingenuity by not only looping flawlessly in and out of harmonies, but assigning each loop to a different horn section.
Most of the crowd enjoyed the performance from one spot, as is often the case at rock concerts. But the smarter listeners wandered throughout the space, occasionally bending over one of the speaker horns like a hummingbird into a flower. The pristine sounds projected upward from the ground, almost giving the sculptures a growing life force as Tchaikovsky's music did in Fantasia.
Bird played without any opener, for a little over an hour. Half of his set consisted of old favorites, and the other half new songs which were either created specifically for the Sonic Arboretum or his upcoming 2012 release. A highlight was an instrumental piece he called "new thing," which is also part of the recorded exhibit and features a heart-achingly gorgeous violin harmony.
The live experience of Andrew Bird was already a well-established norm in the world of indie rock, but the man has topped himself with the Sonic Arboretum. I have no idea what he can possibly do next, but where I lack imagination, I trust Andrew Bird will more than make up for my deficiency.