Reviews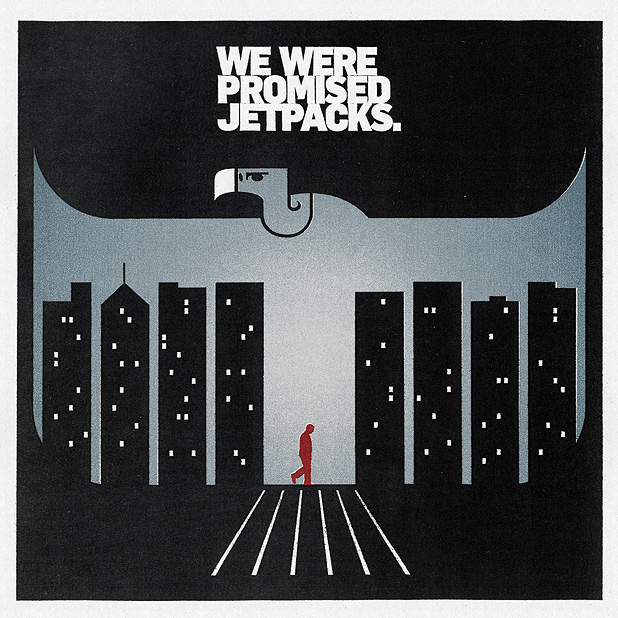 In the Pit of the Stomach We Were Promised Jetpacks
Release Date: Oct 04, 11
1
2
3
4
5
6
7
8
9
10
From Scotland, post-punk quartet We Were Promised Jetpacks, release their sophomore album, In The Pit Of The Stomach, after These Four Walls received rave reviews two years ago.
Lucky for them, the powerful These Four Walls album of 09 launched the band to sudden attention and the lads were able to be as memorable as their name. The curse of having a great first album, of course, is being able to live up to it with a second. Doesn't seem to be much of a problem here.
In The Pit… begins punchy and gallops pretty much all the way through. There are few distinct commonalities the band can be faulted with for having with their contemporaries of the same genre: the nasally, angsty singing, grinding riffs, grungy bridges. It's to be expected and it's welcomed when those traits don't overbear the album. With quality bands, those traits also showcase professionalism and talent. The package of songs they have here are loud, yet controlled. They are also more than loud. In "Through the Dirt and the Gravel," there's almost a bit of Walkmen style crooning and swaying between the big moments. And this is not enough of a likeness to really draw comparisons between those bands. Jetpacks definitely have their unique style.
The timing and artful hesitation of "Act on Impulse" is another example of what sets them apart. It feels like a song that may have come from the mid nineties-especially when the singing comes in—but it is full of subtle surprises. "Hard To Remember" has a great melody, but it may be a bit too much. Too much angst, too whiny. High school will love, perhaps make it their anthem. But those who are old enough to have heard this before, have heard this before. The lyrics are clever though: "I cover my tracks well/pay attention to detail" has a nice ring to it.
In The Pit.. is not a great album, in that after a few heavy punches, several tracks kind of meander. There is a want that carries where the expectation of that one "big moment" track builds. "Sore Thumb" seems to be that song, but doesn't quite live up to that expectation. Expectations aside, it is a decent song. There's a hollow sound, as if the singing is coming from down a long hallway,  that all of a sudden erupts. Nice touch.
"Pear Tree" ends the album with that bang, but by the end is overly-expected. Perhaps In The Pit… only fails in it's predictability. It has such beautiful nuances though, which keep it in the air. The chances that this band takes keeps them fresh. To say that the album picks up where These Four Walls left off is to say that they sound too much alike and that Jetpacks haven't quite evolved. But they're young and talented. Give 'em time.