Reviews
Jack's Mannequin returns to life with People and Things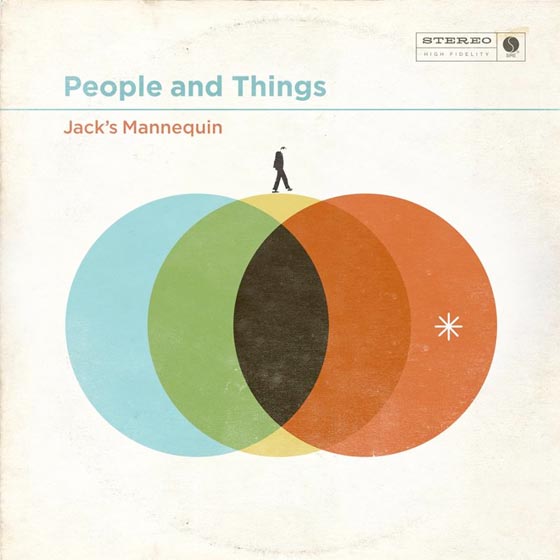 People and Things Jack's Mannequin
Release Date: Oct 04, 11
1
2
3
4
5
6
7
8
9
10
Last year Andrew McMahon and his Something Corporate entourage released a Best of Something Corporate compilation; but his act Jack's Mannequin hasn't seen a release since 2008's The Glass Passenger. Although the debut JM album, Everything in Transit, coincided with McMahon's diagnosis of acute lymphoblastic leukemia, it didn't slow down his or his band's growth – McMahon has been in remission for over four years now and today's new release People and Things marks the third studio album. While it's refreshing to finally hear new work (these tracks which hope to portray the not-so-honeymoon aspects of his personal married relationship), there is a strange sentiment of maturation that seems to teeter over the edge of happy-go-lucky or is wistfully nostalgic.
With that classic catch from just a little piano, "My Racing Thoughts" opens the album as Jack's Mannequin as ever. Perhaps even a little more pop rock, a little less alternative edge. In fact, McMahon strikes a strong Stephen Kellogg chord with his languid kind of guffaw to his words. And then it hits me – Bruce Springsteen! Lines like "I think I'm running short on inspiration/ she's running long on borrowed time" give just the kind of narrative entrance to the chorus the high-pitched synthesizer pops can properly accompany in the background. For a song about having racing thoughts though, I'd expect a bit more internal chaos to come through, maybe just a little note of uncertainty?
I'm caught off-guard when "Amy, I" comes on next. It seems more band-like, less pop-synthesized, and starts full force with guitarist Bobby Anderson, bassist Mikey Wagner, and drummer Jay McMillan. It feels like it's musically full-circle. Lyrically, McMahon sings of the battles of a cold and frigid winter, a frozen lake that begins to crack beneath his feet, and yet all the time there is this Amy getting him through… Metaphor for McMahon's experiences with leukemia while his then-girlfriend, now-wife supported him? It's a possibility. Until it turns out this Amy isn't there anymore.
Recalling himself as "the glass passenger," McMahon walks through the opening of "Hey Hey Hey (We're All Gonna Die)" as if it's the obvious ballad. But it becomes more of that classical bar song you can imagine coming on the jukebox to the joy of people drinking their night away with friends, pretending to be a band of touring musicians. The song is another inspirational tune to get you to keep doing what you love to do, or at least not to give up your dreams. Cliché as a message, perhaps, but McMahon delivers the if-not-now-then-when moral with more maturation than those motivational posters you would see in your high school.
To close People and Things, a piano comes in with the swell of a sound that knows it's the end of the album. Everything about "Casting Lines" feels like the end. And yet, it still looks out with optimism towards a future at home. Which speaks for the record as a whole – through all McMahon's been through, between his personal life and his career, and the overlap of the two, there's quite a future to be had. Whether it brings more Jack's Mannequin, whether it follows in the sound of People and Things, the album marks one thing as clear: McMahon plans to deliver for a long time to come.