Culture
Comicon Wrapup: Evil Dead Reboot News
This past weekend nerds swarmed into Chicago to take part of the annual ritual known as Comicon. I was there for the entire weekend, with one objective: meet Bruce Campbell and find out what the hell is this Evil Dead reboot all about.
For those of you who don't know, it was recently announced the Evil Dead franchise will be rebooted. This time the "Book of the Dead" will fall into the laps of four new unsuspecting victims. There will be no Ash (Bruce Campbell), and no Sam Raimi in the directing chair. Instead the reboot will be lead by fresh director Federico Alvarez.

Here is a look at Federico Alvarez's short film that caught Hollywood's eye.
Bruce Campbell said during an Evil Dead reunion Q&A, that they want the Evil Dead reboot to include a cast of inexperienced actors, much like the first movie. That's when someone asked if he would appear as Ash: "No, I'm too old for that shit. I'm not going to let Raimi torture me anymore. The whole idea is that the book falls into the laps of four new kids. It's a whole new story".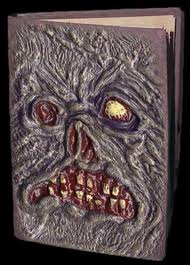 Yeah, that's the book.
Later I asked Campbell in a one on one, "So you really won't have a cameo in the new Evil Dead"?
Bruce: "I don't know man. We are stilling dicking around with it. It's all about making a scary ass movie".
It seems to me that if Bruce does make a cameo it won't be a major role, and it would be just to satisfy fans who are less than thrilled at the idea of an Evil Dead movie without Ash. It's clear that neither Bruce nor Sam want to have Ash's universe, and the new universe created by Federico to collide. As much as I love Bruce Campbell, that's a good decision. Oh, and for the record. We at HEAVEmedia are starting a push to cast Nicholas Brendon as the new "Ash-like" (maybe son of Ash) character. Yes, you know Nick Brendon as Xander from Buffy the Vampire Slayer.

Let's get this going! Nick Brendon for the lead in the new Evil Dead reboot!