Culture
"Attack" of the popcorn movie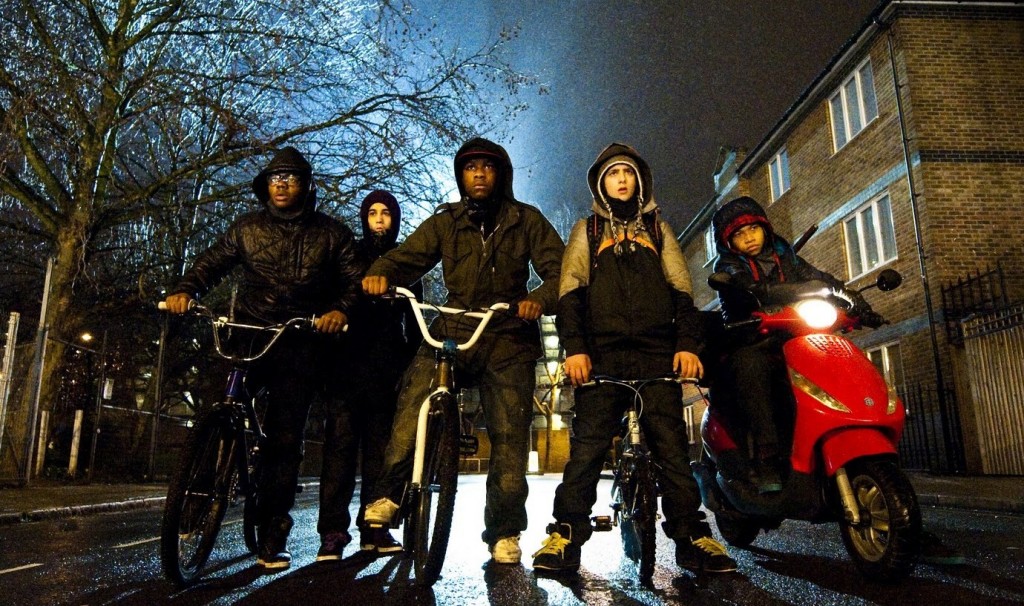 Attack The Block dir. Joe Cornish
Release Date: Jul 29, 11
1
2
3
4
5
6
7
8
9
10
Attack The Block is a dizzying explosion of monster movie scares and street-level comedy, wrapped in a mixture of The Goonies and even the world-weariness of the original Skins at its darkest moments. It's a gleefully R-rated affair, utilizing the promise of a true monster movie in all its brutal glory. It's also one of the best films released this year so far, and a salve on a summer movie season that, with few exceptions, has surpassed even last year's weak summer as filled with the most constant middle-of-the-road offerings.
In a gutsy move, writer-director Joe Cornish introduces most of the film's heroes in an opening mugging scene, in which five boys corner Sam (Jodie Whittaker) outside the South London slum in which they all reside. At knifepoint they rob her, only to get distracted by a massive otherworldly creature crash-landing on a nearby car. After the gang's leader Moses (John Boyega) is attacked by the creature, he kills it, only to discover that many (many) more of them are landing all around, and are most definitely hostile.
The beauty of Attack is that it nails a certain logical simplicity that most monster movies (and even action movies, recently) lack: Because these are kids, albeit kids quickly and violently jaded by a hostile world, they think and react as kids. The immediate panic of the invasion is compounded by, among other things, their lack of sufficient phone credit to send texts, two small boys who follow them around trying to roll with them and a rapper/local drug dealer (Jumayn Hunter) who's interested in Moses as an employee but less so as a monster-killing liability.
There's a lot of monster killing here, and to Cornish's credit, the creatures are striking enough that, even though we get a good look at them early on, they're memorable and genuinely terrifying. Attack reaches a Sam Raimi-esque balance of legitimate, high-stakes horror and spot-on comedy, much of which is delivered by Pest (Alex Esmail). Esmail is one of the film's two breakout stars, rattling off punchlines at blistering speeds even as they're under attack.
Boyega, previously unschooled as an actor, is an even bigger revelation, and it's his performance that takes Attack out of the realm of a fun action-comedy and into a higher echelon of great filmmaking. There's a world-weariness to much of the film. Even running gags like their pot-growing neighbor (Nick Frost in an effective extended cameo) have a tinge of lost innocence once you get past the surface hilarity, and it's tough at times to watch Moses wax dreadful about how nobody outside would particularly care if a bunch of slum kids were killed by aliens.
Because Cornish is sharp enough to keep the social commentary effective but unobtrusive, there's an extra layer of razor-sharpness to the film that a lesser filmmaker would've only hinted at. This is an audacious, wonderful debut from an exciting new filmmaker, and quite possibly the most relentless fun to be had in theaters this summer. One last note: Screen Gems originally wanted to subtitle the film in order to help American audiences through the thick Cockney accents on display. That same bizarro slang is a big part of why it's so damn funny, so let's be glad they 86'ed that particular plan.