Reviews
The Color Spectrum: hear the rainbow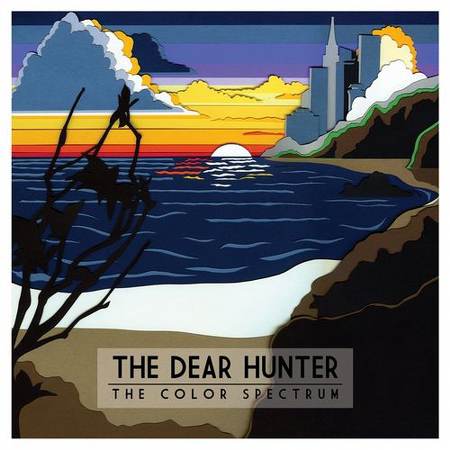 The Color Spectrum The Dear Hunter
Release Date: Jun 14, 11
1
2
3
4
5
6
7
8
9
10
The latest release from the Dear Hunter is aptly titled The Color Spectrum. It touches on such a wide variety of genres and sounds and is so well blended that it's hard to tell if Dear Hunter brainchild Casey Crescenzo is a genius or bored. Or both.
The Color Spectrum is a collection of 11 tracks from nine EPs the group released as part of a box set. Some would call that overkill, and I might agree, but that doesn't change that fact that the 11 tracks they selected are varied enough to keep the listener pretty engaged and guessing.
Each EP is represented on TCS by one track (with the exception of the White and Green EPs that each got two) and each is literally like a crayon in a Crayola box. "Filth and Squalor" from the Black EP opens up the album and is a slow dirge of techno hash, distorted bass, and angsty vocals that would make Trent Reznor raise an eyebrow. "Deny It All" walks a dangerous line in nearly lifting a Muse melody, but in the end is much more enjoyable than just about any recent Muse release.
The most interesting aspect of the TCS is the way each song kind of bleeds into the next. There is never a sharp left turn musically speaking and for songs that are essentially a compilation, it is impressive. From the bombastic "Deny It All" to the thick groove of "But There's Wolves" to the beautifully put together melodic love song "She's Always Singing," the listener is having a musical conversation with Crescenzo. It is like having a conversation with an old friend; naturally moving from topic to topic.
Making a musical movement from the defiant industrial rock opener to weepy, hopeless bluegrass over the course of five tracks is not easy but Crescenzo seems to do it very well. "Things That Hide Away," the aforementioned weepy bluegrass track, and "The Canopy," both from the Green EP are so sweet it is heartbreaking. Crescenzo has a real knack at piecing together catchy hooks and rhythms and he truly hits his stride with these two songs.
Unfortunately there is a bit of a lull toward the back end of the album. "Trapdoor," "What Time Has Taught Us" and "Lillian" have a tendency to drone on and I found myself skipping over them in favor of the White EP's "Home" and "Fall And Flee;" equally slow moving but powerful, these tracks close out an album that doesn't end with a punch in the face or a whimper like others do. It is more of a cordial handshake with someone you would like to meet again.
As I listened Crescenzo reminded me a lot of Ryan Adams. Both are extremely prolific and gifted songwriters, both left their slightly overrated bands to produce critically acclaimed solo work and each put out an album of eclectic rock music. Adam's Rock N Roll thrust him from indie obscurity to near mainstream success. The Color Spectrum isn't as good but the ambition and talent is there. Now Crescenzo needs to find his Mandy Moore.