Culture
Business Casual Superstar: Inspired by Amita (Navi Rawat, Numb3rs)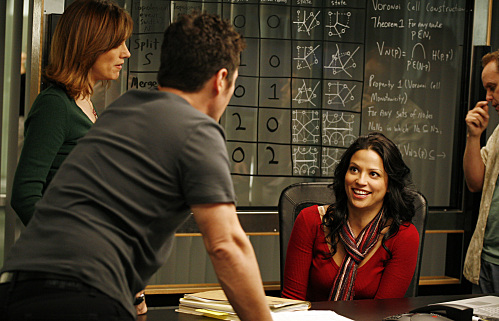 I've really gotten into Numb3rs lately. It's a great show about a mathematician named Charlie who is brought in by his brother, Agent Don Eppes, to consult for the FBI. Also, Don is played with Rob Morrow who is GORGEOUS. One of those men that just gets better with age.
Charlie's love interest on the show is his colleague Amita, a math and computer whiz named Amita, played by Navi Rawat. Because I'm so into this show right now, I figured I'd put together an outfit that Amita would wear as she cracks codes and helps Charlie run programs at their offices in CalSci. (A fictional equivalent of CalTech.)
Here's what I came up with.
Taylor & Hyde 3/4 Sleeve Jacket ………. $15
Medium Wash Bootcut Jeans ………. $15
Sleeveless Square Neck Top ………. $19.79
Unisa Elle Pump in Taupe ………. $55
Amita wears a lot of earthy colors like brown and olive green and grey. She warms them up with more traditionally feminine shades, particularly corals, and that's what I tried to keep in mind when putting this all together.
I went with medium wash blue jeans, boot cut. Amita's an assistant professor who spends most of her time on the show in Charlie's office, helping him manipulate programs, and she dresses a bit casually. She's often wearing jeans – in grey, black, dark wash, or a medium wash.
She dresses up the look a little by wearing blazers. I picked this pretty brown one with pinstripes, and picked a solid shell to go underneath and add a nice blush of color to the outfit.
I finished it off with a pair of sensible brown heels with little feminine accents, and we're done. This is definitely something Amita would wear while helping Charlie decipher code or run his simulations. Sorry I went a wee bit over the budget; I tried to pare it down by using the $15 Dollar Store to get the jeans and jacket out of the way, but still ended up a little more than $4 in the hole.
Eh. It happens.