Reviews
Nat Baldwin: Just a man and his bass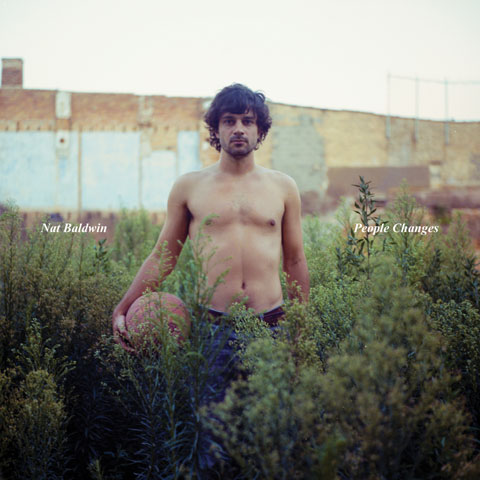 People Changes Nat Baldwin
Release Date: May 24, 11
1
2
3
4
5
6
7
8
9
10
" Ay yo, drop the fuckin' beat"
–  Anonymous Rapper
Anyone waiting for a beat to drop, or almost any other instrument to appear on Nat Baldwin's newest record better have the patience of a saint.
On Baldwin's latest solo release, People Changes, the Dirty Projectors' bassist offers up minimalist arrangements, often times just he and his upright bass. People Changes, put out on Western Vinyl, is his forth solo effort and a distant cousin of the genre muddling and progressive Projectors.
It's a somber record. And as cloud covered and rain soaked a city as Chicago has been this spring, it's a fitting record for an unusual May.
Though Baldwin has plenty of indie street cred, or library cred, or whatever cred indie kids collect, it's his training in jazz and his willingness to buck current trends that stands out the most. These qualities are most apparent during moments of experimentation and discord. On "Lifted," Baldwin's staccato bass is the anchor as he cuts in chopped up horn notes and clattering drums. At first, these moments of hysteria seem at odds with the bulk of the record. But the departures from the mostly lucid compositions Baldwin plays have a purpose. With some experimental jazz and genre-blending records the noise never stops, Captain Beefheart's Trout Mask Replica comes to mind. Baldwin maintains a certain pop sensibility though, where he dries you off after dragging you through the storm, as in "Lifted," where a graceful and charging chorus brings the noise to an emotive head, releasing the tension instead of endlessly building it.
One of the most intriguing sounds on the record is Baldwin's voice. It has been much written about, with critics citing his melisma style and associating it with Baldwin as if he and his Projectors bandmate, Dave Longstreth, invented the style. But the melisma can be found anywhere in old blues standards and even in contemporary pop starlets like Christina Aguilera. And unless I missed it, I don't think anything Xtina has done up to date has been ground breaking. It's not the form of singing that is striking, but how Baldwin approaches the form. His voice is flittering, sounding unmoored as he leaps across notes. Where most blues singers who use the style sound assured, a mask of bravado covering old wounds, Baldwin's style is whimsical and airy, like it might float right off the track. The deep groans and percussive playing of his bass tether the voice, the stilted low notes giving guidance to songs that otherwise might lose their direction.
In comparison to his earlier releases, this record is stripped down. There isn't much in the way of drums or percussion – Baldwin uses the bowing of his bass to add rhythm. The guitar is as absent as Ferris Bueller from class and he occasionally brings in woodwinds and brass. But these fringe elements seem to draw more attention to the beautiful bass arrangements he pieces together throughout the album. "Real Flakes" is the longest song on the record, clocking in at six and a half minutes, but it never seems too drag nor would cause anyone to lose interest, even though its only his singing and a few layered bass tracks.
When I first listened to People Changes, it reminded me of a soundtrack to a movie. I thought this might be a pejorative observation at first, intimating that the record would do more as accompaniment, but after a few listens its obvious that Baldwin and his bass can stand together on their own.