Music
Live review: Bonnie Prince Billy @ Pritzker Pavilion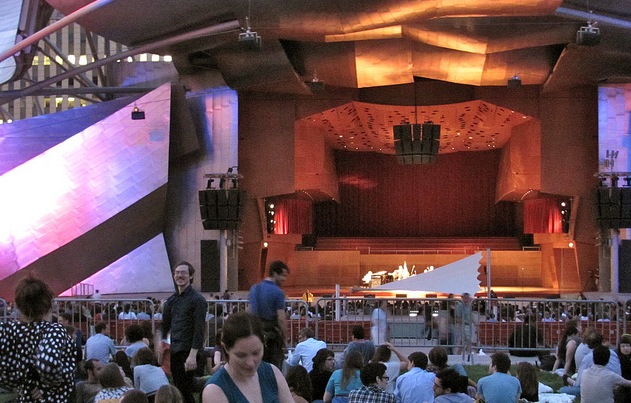 Will Oldham led Chicago in a collective sigh of relief to kick off the 2011 Downtown Sound free concert series on Monday night at Millennium Park. Bonnie Prince Billy and the Cairo Gang performed for a crowded but comfortable Pritzker Pavilion, officially reminding us why we have such strong pride and love for this city. It was mid-70 degree weather, the sky was clear-blue, and the grass was so miraculously cushiony. Thank God I wasn't raptured on Saturday, because this was a beautiful evening I would have hated to miss.
Friends and families gathered on the lawn with wine and/or beer. Young parents brought picnic baskets and dancing toddlers. Girls wore summer dresses. And most importantly, Bonnie Prince Billy played music. This is why we put up with half a year of awful weather. Smiles were all over the place, and by the end of the night strangers on the sidewalk were reaching their hands out into the street for high fives as I rode my bike past them. Yes, happiness is finally back in Chicago.
It was an ideal first concert for Downtown Sound. Certainly not the biggest crowd we'll see this year (Iron and Wine or Glen Hansard/Low will set that record), but Bonnie Prince Billy started things off right. It was mostly a quiet folk concert, with upright bass and grand piano keeping the Americana classy.
With the exception of the Kings Go Forth, it feels like the dancing will probably be kept to a minimum at Millennium Park this year. Will Oldham set the tone by not talking between songs and simply playing the soothing soundtrack to our beautiful summer night. His set seemed to start off at a low volume, but slowly built energy as the night went on. By the time Go Folks Go came on, the sun had set and the colored spotlights shined warmly on the pavilion. Wine glasses and beer bottles were clinking all over the park, in celebration of what's sure to be another wonderful summer in Chicago.