Culture
Business Casual Superstar: The T-Mobile Girl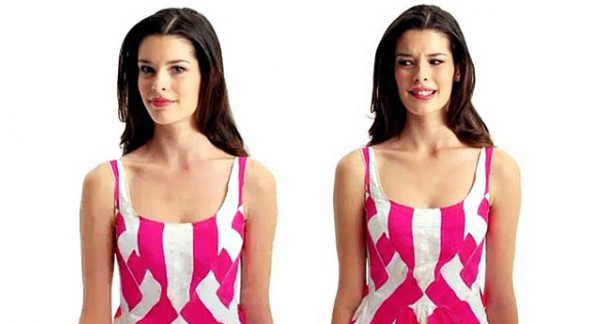 Yeah. That's right. Today's fashion inspiration is the bright, peppy, happy T-Mobile Girl with the uber-pink dresses and fabulous Kate-Middleton-esque blowout. You've probably seen her in those commercials that air alllll the freaking time. In case you don't know what the heck I'm talking about, here:
I like her pink and white combo because it stands out great against the white backdrop of the ad, obviously, and I love the contrast with her dark hair. I saw her wearing a bit of red in her top in one of the newer commercial spots and felt like replicating that for Heave after my month-long hiatus.
I kind of tweaked the outfit a little bit because you'd just look like an accident at the candy factory if you walked into the office with a pink skirt and pink heels.
So let's call this an outfit loosely inspired by the T-Mobile Girl.
Also, I put together the outfit and included a sleeveless top, but a lot of you will NOT be able to wear that to the office, obviously, so I advise that you throw some sort of cardigan over it. If you're one of the few people not to already own a white cardigan, I suggest this one on sale at Kohl's. Lightweight and breezy, so it's a perfect summer cardigan.
Great. Now let's move on to the actual outfit.

Halogen Seamed Knit Skirt ………. $44.90
Ivory Bouquet Anne Tank ………. $29.99
Jump Pleat Flat in Nude ………. $16.99
Ah, it feels good to be back. Capping images. Adding a 3 pixel stroke. Collating them onto one 500×700 template. Cropping for size. Adding text links.
OH NOES I JUST GAVE AWAY PRECIOUS INDUSTRY SECRETS.
:-O
Ah, whatever. I couldn't expect to keep greatness of this magnitude a secret forever.

Anyway, I found this hot pink skirt at Nordstrom, which was kind of surprising, because they don't really sell many hot pink things. But whatever. I thought it just SCREAMED T-Mobile Girl. I paired it with this red multi print tank. Sometimes red and pink work really well together.
Again, it's a tank, and a casual one at that (my options were limited) so I would definitely pair it with that girly cardigan to dress it up a little.
I threw in a pair of nude pointed flats just because. I didn't want to go with pink shoes. Too cartoony for a day at the office, especially if you're wearing a hot pink skirt. Otherwise pink shoes are generally fine. But not with this.
And there we have a great outfit inspired by the T-Mobile girl! My little brother has a total crush on her. I said she reminded me of Anne Hathaway and he got really mad because apparently Anne Hathaway annoys the crud out of him and my comparing her to his T-Mobile Girl was basically the worst insult ever.
Lots of people say she looks like a young Liv Tyler. I can kind of see that. Personally, I think she looks like a Generic TV Brunette. Not in a bad way. I do think she's quite pretty.