Reviews
Thao and Mirah leave their comfort zones and take listeners along with them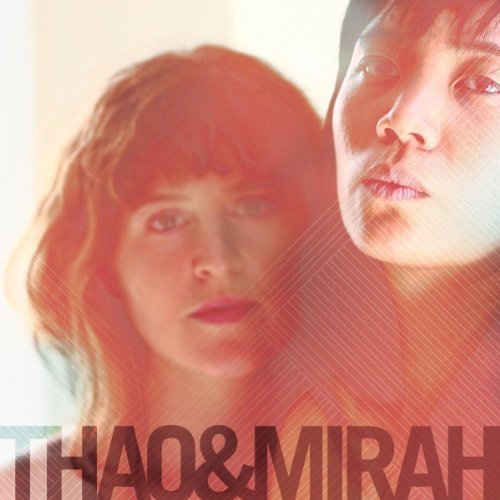 Thao & Mirah Thao & Mirah
Release Date: Apr 26, 11
1
2
3
4
5
6
7
8
9
10
When I think of successful collaborations, the first thing that comes to mind is Combos pretzels. When I'm not hungry, my new reference will be Thao & Mirah, who managed to do what so few artists are able to—come together as a duo and emerge stronger with their solo identities still intact.
Call me biased (because I am), but I would have a hard time hating this album even if it wasn't a cohesive, entertaining listen. Thao Nguyen is a favorite singer of mine, and coincidentally, so is Mirah! However, as much as I love these two songbirds independently of one another, I shuddered when news of their upcoming album broke in January. Thao is so playful, quirky, and passionate, while Mirah has a haunting depth to her voice, and their collaboration does not look organic on paper. However, under the guidance of producer Merrill Garbus (yup, the lovely tUnE-yArDs lass), and the startlingly obvious chemistry between their voices, Thao & Mirah is one of the most diverse and delightful collaboration albums in recent memory.
"Eleven" starts the album off with an unexpected bang. The track is written by Garbus, and it's full of intense percussion and features a catchy, sing-song verse structure. There are aspects of tenderness to the song, but both Mirah and Thao offer command performances that keep listeners' hopes high for the remaining tracks. Because the album is filled with individual bests for both Mirah and Thao, I'm tempted to do a track-by-track analysis of which tracks feature who, and whether the tracks make "sense" with their personal musical identities or whether they push a listener's expectations. But therein lies the rub: one of the best aspects of this album is the joy that comes from being surprised at each artist's unique twists and turns.
And really, the best songs on the album are the ones that feature both of them in a dialogue with one another, like "How Dare You." The song is sweet, yet virulent, which sounds impossible until you hear Thao and Mirah going back and forth with varying levels of controlled vocals over minimal instrumentation. Rather than trying to imitate one another styles, Thao and Mirah have melded them together and taken their sound to a different level all together. They don't do it by themselves, either. Their use of instruments adds necessary texture to tracks that could come across as too simplistic otherwise.
This is not to say that the album is 11 tracks of perfection. "Likeable Man" sounds like it's too tired to propel itself forward, and with it so close to the end of the album, it makes it hard to keep listening and discover the fantastic ending track, "Squareneck." Much like "Eleven", the instrumental part is raw and sounds like it's straight off of an Appalachian folk compilation. It makes for a satisfying end to the inventive first release of Thao & Mirah. Let's hope it won't be their last.