Music
Live review: RYAT @ the Observatory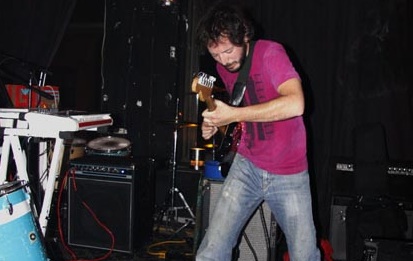 RYAT with Billy Crystal Meth, Joywheels, and Panda Riot, opening for Light Pollution
@ The Observatory
15 April 2011
The show is at a venue called the Observatory. Try finding it. It may be difficult. You will come across two locations, one in Lakeview, one in Pilsen. You will also find that it goes by two names, The Observatory Loft and Heart of Gold. I'll help you out: 3036 North Lincoln Ave. Walk all the way up to the topmost floor (fourth) and enter into the "lobby" of this loft/recording studio/venue. Then go behind the heavy curtain into the venue and behold the comforting sight of rainbow lights strung on a keyboard, various instruments piled onstage, murals of dancing figures painted all over the walls, and an assortment of seating (from diner-like tables for two to couches to kitchen stools). Welcome.
A poet by the name of Grace opens the night. She announces she is going to read pages from her diary. At first, for some reason, I expect a somber attitude to these diary entries. Instead, they are short snippets of humorous accounts from her days over the years. She is quirky and fearless and you kind of just want to sit down to a drink with her.
Without an intro or even call to gather anybody's attention in the smattering of a crowd by the "stage," the duo known as Billy Crystal Meth (Billy, I am assuming, was the singer) begin to play quick punches of what sound like punk-style Brit-pop. I'm sitting on one of those chairs common to kitchen areas, but I can hardly see over the surprising amount of tall attendees. The set is short.
Around 10pm begins the DJ set by Joywheels, spacey and performed in a black gown-type robe with silver sequins sewn on in falling-apart rays protruding from the neckline, gold and silver ribbons attached to the bottom of the whole piece. At first I'm not even sure if the set has started. For a brief moment, our performer pulls out a clarinet. The moment is so brief though that I start to wonder if actually the clarinet was an oboe. Twenty minutes later and the set is over. Someone calls out for an encore but our enrobed DJ gets off-stage with a smile.
Grace returns to the mic to read a poem about going to hell. "Maybe you are!" someone yells jokingly.
Panda Riot takes the stage, which includes the guy from Joywheels, sans wizard robe, on base. The quartet also has a guitarist, small drummer (by which I really mean the drum set was tiny and sparse), and keyboard-playing guitarist female singer. She almost has a Camera Obscura quality to her dreamy vocals as she stares into space with a strangely unnerving look of focus. She also rocks a tambourine at one point. They are pretty DIY. They are pretty cool. Even the little girl, almost-harajuku-reminiscent vocals. "We're Panda Riot. Up next is RYAT. "With a y. And an a," says the girl with the mic.
Around 11:45 RYAT takes the stage. Founder and lead Christina Ryat has what appears to be the ohm symbol shaved into the side of her head, a long ponytail on the other side. Accompanied by Tim Conley on keyboard tracks, a drum, and a guitar, the two face each other as if in a dual. Vocal ululations that don't easily sound like words are interspersed with the fringe synths of In Rainbows-sounding electronic grunge. "I'm gonna sing you a slow song. 'Cause everybody deserves to be sung a slow song," Ryat tells us at one point. And she sounds so sincere. It sounds like listening to vinyl while falling asleep comfortably in bed. Then the duo launch into another song, another few minutes of throwing not just themselves into their instruments, but their entire bodies into the rhythms they're producing.  At one point she either gets the added echo effect from her hookups already or it's from her using two mics at the same time. But then you know Ryat really cares about the gig when she's singing at the top of her lungs and it's not even into any mic. From Philly, the two each have their own groove to each song and yet work off each other independently and dependently simultaneously. Make sense? See them for yourself if not.
All photos by Shelby Shaw