Music
Lovers' rock for Hunx everywhere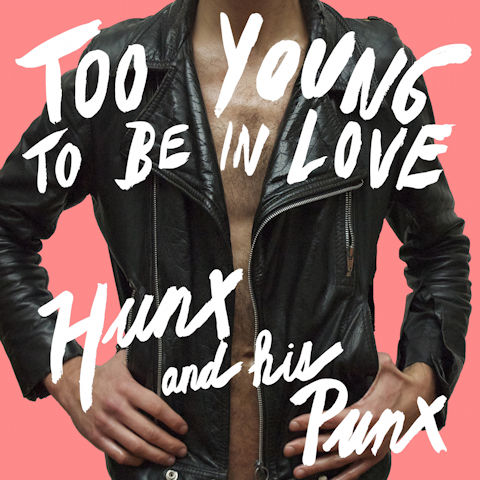 Too Young To Be In Love Hunx and His Punx
Release Date: Mar 29, 11
1
2
3
4
5
6
7
8
9
10
Before Hunx (or Seth Bogart, though that's not nearly as fun) met his Punx, there was Gravy Train!!!!. That Oakland-based electropop act scored a minor indie hit with "Hella Nervous" but frequently straddled the line (usually very well) that so much brazenly crass music rides, between being hilariously dirty and off-putting. With Hunx's new band, he's stopped talking about fucking (mostly) and started talking about making love.
It's good, too, because so much of Hunx's old lyrical material would feel gimmicky and out of place on Too Young To Be In Love, a throwback to 1950s surf rock; imagine the Beach Boys if Brian Wilson was assertively gay. Instead of so much beach-rock revivalists, who want to carve their own niche out of the scores of young men and women who happened upon Pet Sounds, the Punx throw their arms around the old sounds, and want you to think of every band from that era while listening. "My Boyfriend's Coming Back" is a thinly veiled ode to The Angels, and yet retains the same threatening overtone that the original has been used for. If anything, it's more pronounced when Hunx declares "You better watch your back/Yeah, my boyfriend's coming back."
From the languid nighttime lovers' balladry of "That's The Curse Of Being Young" to the prom slow dance outlined in the title track, Too Young is very much a record that wouldn't be out of place at a sock hop, if such a thing still exists, and yet it occupies its own  very modern universe in definitive ways not related to the given orientation of its singer. On something like "Blow Me Away," there's just enough of a breach of innocence that it's clear Hunx is aiming for something more than doe eyes. This is backed up by the "screw 'em, let's walk through the town" attitude of opening track "Lovers' Lane," reminiscent of "Leader of the Pack" in its wistful ominousness.
There's not much winking here, either, which is the primary reason Too Young is so damn great. This is a record for night drives and necking, for sinful dancing and leather jackets. It's for sneaking out your front window so your parents don't find out about your new boyfriend, and for holding hands no matter who'll see. It's also one of the year's best albums so far, and heralds Hunx as one of the most entertaining frontmen in rock and roll today.