Features
Cause For Attention: Adventures of Power and The VH1 Save the Music Foundation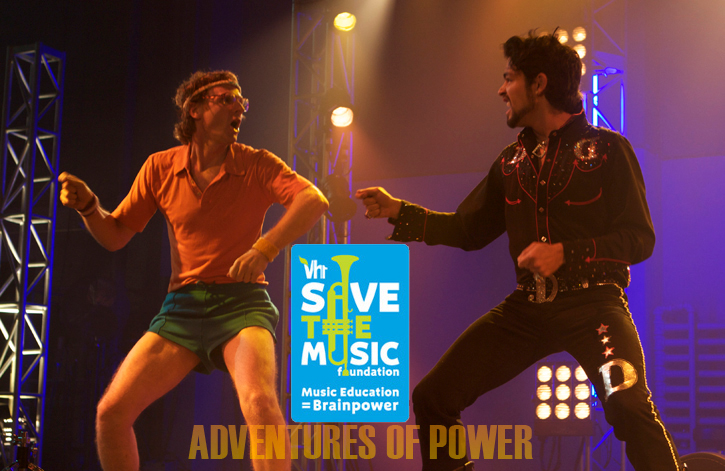 Indie film Adventures of Power debuted at Sundance 2008 to extremely mixed reviews. Starring "the real" Ari Gold, Jane Lynch (Glee), Adrian Grenier (Entourage) and Michael McKean (Spinal Tap), the movie is about an air-drummer named Power who "saves his hometown by listening to the music in his heart." Yup, you read that right.
So is it a agonizing disaster or a quote-filled cult classic? I watch Zoolander every time I'm feeling down, but can't say I'd ever watch Napoleon Dynamite again, so I'll spare you my flighty cinematic opinions on this particular genre. Since the film is now available on DVD, you can decide for yourself.
Opinions of the film aside, Gold has done an incredible job of bringing a huge list of notable musicians, comics and actors together to donate concert tickets, one-of-a-kind experiences and collector's items for an online charity auction benefiting the VH1 Save the Music Foundation. Under the banner of celebrating the DVD release of the film, you can bid on concert tickets, signed posters and instruments, or experiences like the opportunity to have lunch with Marky Ramone or audition for David Wain's next feature film or TV project.
While some of the items have bids approaching "you've got to be kidding", there are still a handful below their estimated value, and they're all worth an amused and/or amazed look. All proceeds of the online auction will go to the VH1 Save the Music Foundation, whose core mission is to restore instrumental music education programs in U.S. public schools, "ensuring that every child has access to a complete education that includes the benefits of music instruction."
You have until midday on March 16th to get in on the auction action, and plenty of time to debate whether you love or hate Adventures of Power.