Music
Live review: The Get Up Kids @ Bottom Lounge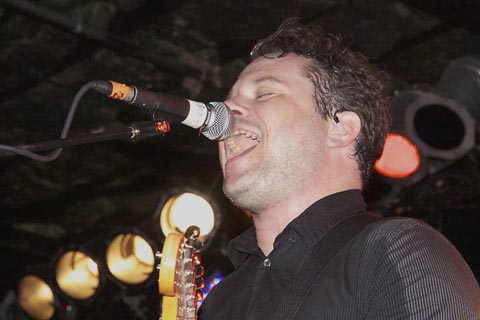 The Get Up Kids with Miniature Tigers, Brian Bonz & The Major Crimes
The Bottom Lounge
11 March 2011
"Emo" has become such a loose and derogatory term over the years that it hardly holds any content in its meaning nowadays. But if anyone knows anything about music, they know that there was a time when "emo" was a genre of budding rock projects and punk waves. The Get Up Kids were a main player from the mid-1990s, and although they broke up in 2005, a reunion was set in motion for 2009 to celebrate the tenth anniversary of their first success, Something to Write Home About. Together once again, TGUK currently are on tour supporting their most recent release, this year's There Are Rules. If there are any rules regarding The Get Up Kids, one would definitely be to see them live. Because the point of the music just isn't the same unless you can say you experienced it.
The Bottom Lounge's bill slated Brian Bonz as just Brian Bonz, the self-proclaimed Brooklyn-based "Swedorican" (half Swedish, half Puerto Rican) – but the rest of his band (The Major Crimes) helped open the night with what would normally be acoustic, but provided for decent movement with everyone plugged in. Starting on guitar, with his cherubic face, Brian announced, "If anyone wants some crystal meth or acid, we've got some by the merch table. We're gonna get fuckin' loose tonight, Chicago." Then he traded his guitar for a tambourine. The latest songs, recorded in Chicago at Soma Studios, are pleasantly harmonic but still have that essence of Dave Matthews, if Dave were more into ambient rock.
After, Miniature Tigers set up their stage via their drummer, Rick, a guy with a neat mustache and haircut, plaid shirt neatly tucked into high pants. Like a page-boy out of a 20s mob flick. Also from Brooklyn, these boys had a slower and lighter feel than Bonz, with lead vocalist Charlie in a vibrant red poncho he told the crowd was a blanket he cut a hole in. Launching into "Japanese Woman Living In My Closet," a mellow energy filled the room and I felt like I was listening to a secret show for The Dodos.
At one point Charlie asks, "You guys like to dance at all?" and walks around, but it was like he was just desperate for some kind of lazy stage presence. Thankfully, a mysterious man fully clad in a Spiderman outfit came on stage with Brian Bonz. Dancing around everyone without a care, Spiderman definitely stole my attention.
The Get Up Kids came on around 10:45, opening with "Tithe" and plenty of punk jumping. By the second song, "Action & Action," lead Matt Pryor was sweating profusely. They then took a clearly-needed water break. "Never been here before," Pryor said. "It's a nice club. Friday night in Chicago." The Bottom Lounge was packed in now and the crowd sang every word of "No Love," going along with that little clapping moment. It was clear that everyone was fully into the night, even if it would kill TGUK to finish. Meanwhile it was killing me to photograph bassist Rob Pope, who consistently walked back and forth from the drums to the front of the stage.
Brian Bonz came out yet again for "Overdue," but it wasn't exactly clear to me as to why. He stood next to Ryan Pope on the drums and shook some hand-held instrument. Then left. I guess it was the thought that counted.
Pryor had a younger stretch in his voice for "Shatter Your Lungs," raw and full of potential. Like an original. On the newest single, "Pararelevant," the performance is done with as much comfort as the older tracks. A little less edge, a little more smoothness.
Then Pryor dedicated the next song to the first place they ever played… Where? "OK, we're gonna dedicate it to the Fireside Bowl." Cue the crowd being extremely pleased as "Shorty" begins.
Guitarist Jim Suptic was left alone on the stage to perform an acoustic "Campfire Kansas" – at one point someone started a clapping round, but no one joined in. For the better.
The night continued without any falters, and although every now and then the crowd would look a little tired, by the time "Holiday" came on you would have thought the band took the stage for the first time all night. Ending the night with "I'll Catch You" led the whole place into song – everyone knew the words. Everyone wanted to let that be known.
As much as The Get Up Kids have grown over the years, both literally and as a band in their time apart, the crowd's appreciation will never die. And the band's input for a night's great output never will die down either. Even if it means sweating bullets for a two-hour set.