Features
Cause For Attention: Ignite the Spirit & Red Rebel County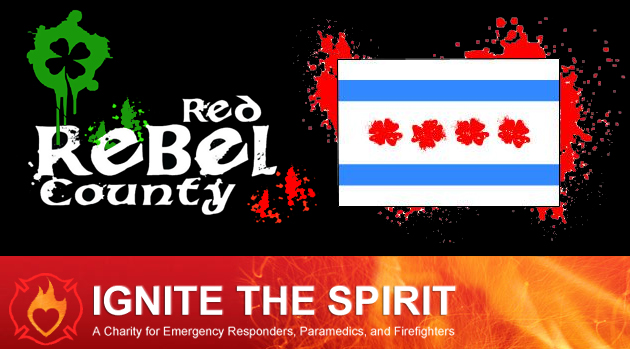 Yes, an official Saint Patrick's Day Parade will march down Columbus Drive on March 12th – but for anyone who laments the loss of the spirit of the South Side Irish Parade, don't fear. Even though it will put you on the North Side, there's a great place for you to party the night before the Chicago River goes green. Even better, your $5 will go to support a charity for the emergency responders, paramedics, and firefighters of Chicago.
Red Rebel County is made up of a fiery clan of Southside musicians "paying tribute to their Irish music heritage and hard rock roots." Chicago Firefighter Douglas Crowley (bagpipes), his younger brother Mark (vocals), and fellow firefighter Rocco Padula started performing after an invitation to play an annual St. Patrick's Day parade party. They've since grown to a nine piece band with all the percussion and guitars you could ask for plus fiddle, mandolin, and of course, more bagpipes. While they're chiefly billed as a Dropkick Murphys/Flogging Molly cover band, they also play some traditional Irish sing-a-longs to get the toasts started. Red Rebel County puts on the kind of show that creates dedicated followers, and has become the go-to group for countless Chicagoland Irish pubs and festivals.
The March 11th show was already booked as a St. Patty's day celebration and Flogging Molly afterparty (following the show at Congress Theater) when tragedy struck the Chicago Fire Department. On December 22, 2010, two Chicago firefighters died and seventeen others were hurt in the CFD's deadliest fire in more than a dozen years.
With the obvious CFD ties that Red Rebel County brings, the folks at Joe's Bar welcomed the idea of turning the show into a benefit. Now dubbed "CFD Heroes Night," all proceeds are going to the Ignite the Spirit fund. Established by Chicago firefighters, Ignite the Spirit acts as a funnel, contributing to many CFD related charities, families and widows, doing what it takes to support Chicago firefighters and their families in times of need.
If you're looking for a way to start St. Patty's Day celebrations off right, you've found it. Tickets for the March 11th, 10PM, 21+ show can be purchased in advance at ticketweb.com or at Joe's box office, or on the night of the show at the door. More information can be found at Ignite The Spirit and Red Rebel County.