Reviews
Have Rainbow Arabia struck gold on Boys and Diamonds?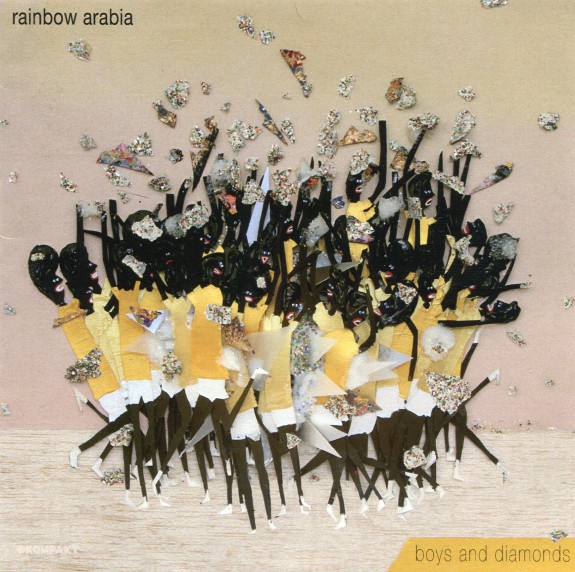 Boys and Diamonds Rainbow Arabia
Release Date: Mar 01, 11
1
2
3
4
5
6
7
8
9
10
If you're in a relationship, maybe you two should start an aspiring underground band. Look what happened to Tennis – they're getting press like it's their job. Look at Matt & Kim. How about Arcade Fire? Danny and Tiffany Preston, the couple behind Rainbow Arabia, create nothing like the aforementioned duos. From Los Angeles, the two create catchy and anxious dance songs built from aspects of Arabic, African, and Asian music. On the recently-released Boys and Diamonds, the Prestons prove they're anything but Californian Americans. Unfortunately, they do so with just a helping too much of gusto.
To start, first track "Boys and Diamonds." With some strange other-era synthesizers to set the initial mood, a tropical one at that, it's accompanied briefly by a language other than English. One I neither recognize nor understand. But between the content and deliverance of the song, I'm thinking of Lykke Li on holiday with Ellie Goulding in the Caribbean. Or in Fiji.
Blending that genre called "world" with a melodic pop rhythm, "Without You" doesn't end there – 80s rhymes and sing-song beats effortlessly succeed. By the time we're a little past one minute, I'm quick to assume this to be like a one-hit wonder ballad, that one song that seems to have worked out too well to be replicated. I tell you now that I was wrong in my assumption. But you can decide by how much.
"Papai" starts and cues skittering space sounds and whistles which suddenly make me very skeptical of the track. It takes over two minutes for me to begin to even consider changing my mind. The constant Fourth World Pop instrumental meets some chant-like vocals, finally driving it all more into my focus. But not enough to make me remember or care to return to the track.
A mix of languages (don't worry, English is one of them) on "Hai" catches me by surprise – I'm captivated to listen. It has a slow pull, like when you listen to a song in the car but your car is an oven and the sun is blinding and you could just fall asleep. "I wanna get high" are not joke lyrics in terms of sentiment here.
The Fuck Buttons come to mind as soon as "Mechanical" starts. But the clapping that so rudely interrupts immediately breaks that association. Foley stage-like sounds of tools hitting the ground oddly end a chant of "love me like a little child." Akin to the child references, some of the sounds remind me of effects used in Nintendo 64 games. Most likely this is least intended by Rainbow Arabia.
For a final song, "Sequenced" sounds like it's just beginning Boys and Diamonds. It's quickly paced for a long time, full of echoing chants and vocal range explorations, what sounds like Bjork meowing with an ecstasy driven guy from Weird Science Djing behind her. Quite the way to sign off. But as I think about it, I realize I feel more or less the same way I did at the end of all the other tracks.