Reviews
Did You Get What You Wanted On Vanity Theft's Get What You Came For?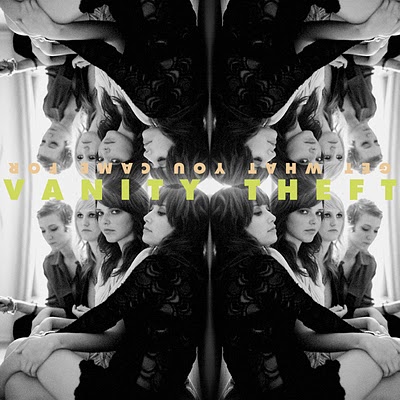 Get What You Came For Vanity Theft
Release Date: Feb 01, 11
1
2
3
4
5
6
7
8
9
10
There is a difference between female-fronted and all-girl bands. Aside from the aesthetically obvious, usually the only difference is that all-girl includes more female vocals. From Dayton, Ohio, Vanity Theft is no exception. Although having a steady bite to Brittany Hill and Alicia Grodecki's vocals, along with a string of musically-different tracks, the songs seem to all fall just within reach of being a get-up-and-jam kind of rock tune. It's mainstream "girl" in a black dress from the Midwest.
But opening the album with "Anatomy" pulled me back into the days of Spice Girls and B*Witched, with grouped female vocals breaking through the low-fi music with a clear punch. Unfortunately, the low-fi is flat and the consistent beat still sounds unfinished. Not in a raw garage sound, but in a studio recording way. I feel like a main instrument has been put on mute. Then I realize the chorus has played more than any sound on the track and I find myself wondering how long it took to write.
"Bit By Bit" has more control than the previous song and I'm expecting it to be a lot more progressive. It seems that way as the lyrics actually grab me in the beginning and the background sounds seem more appropriate. But the chorus doesn't have the edge I'm expecting. It's now that I assume Vanity Theft's act is more entertaining when it's live.
A different sound is refreshing on the third track, and I'm struck by the chorus – it sounds as if Hayley Williams (who I tried to avoid mentioning at all here) rewrote a song off Brand New's early Your Favorite Weapon as a mainstream girly pop ballad. Its abrupt fade out at the end leaves me skeptical of even that though.
By now I take a look at the track listing and see all the dismemberment and bodily themes. "Limb From Limb" brings my attention to this, and as much as angst is a necessary trait to know, it feels wrong to bring in the synthesizers here. When the clapping comes in, it's refreshing to hear less accompaniment on the track, something that picks up a little more before returning back to the repetition of the chorus in the original full-fledged sound. It feels like the first fleshed song.
Deep organ-like sounds opening "Missing Teeth" are paired with… laser guns? Space effects? I have faith in it – until the slight brass of a T-Pain affect on Hill's vocals adds to the modern radio-ready sound. Then drops a beat reminiscent of Savage Garden. It's very broken-hearted-girl-lying-in-bed-after-an-emotional-text-session scene.
Finishing the album, "Trainwreck" would do much better as the opener. I would have had much more of a rock feel expected going in, especially since that's the genre listed on Vanity Theft's Facebook page. And with a track title like this, which unfortunately conjures up tabloid covers of Britney Spears and Lindsay Lohan, I'm expecting the music at least to be a bit of a mess in the sounds. "Saw you in a dirty shirt/ I caught you doing dirty work/ Ooh, I couldn't fight it/ Ooh, I kinda liked it" only instills those unfortunate Britney/Lindsay images.