Reviews
'Excerpts' From Ensemble Are Like Excerpts From Your Forgotten Past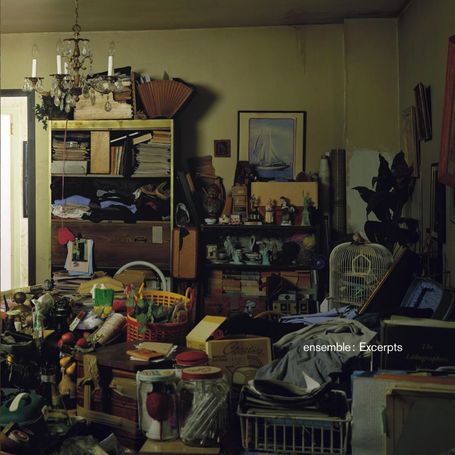 Excerpts Ensemble
Release Date: Jan 25, 11
1
2
3
4
5
6
7
8
9
10
When people think of French-Canadian bands who use French in their songs, I'd bet most of them think first of Arcade Fire's alternative and epic romps. Following their 2005 self-titled release, Montréal-based Olivier Alary's Ensemble more so embodies Parisian-French on Excerpts, like you're taking your time with a café on cobblestone streets. It's beautiful in only the way a bilingual album can be (especially when it's half French), but the slowly continuous sound that it starts with never changes. Rather than feeling like an exposition into the mesh of French and English musical cultures, it feels more like being solely acquainted with one city block in Montréal. The boundaries in the music never get pushed, and it's debatable whether they even get met. At least it tempts you to listen to more the way it plucks at the little bit of your brain in charge of nostalgia – inexplicably, it feels like you've heard it before.
When the softly beautiful and controlled vocals of Darcy Conroy start on "Things I Forget," I can't help but picture an Imogen Heap music video set to a Marie Antoinette theme. Then it becomes muffled by separate monologues and busy strings, compliments of Johannes Malfatti. It feels like it will be a mild and endearing album. Unfortunately, it ends up being a lot milder than anything else.
The French language appears for the first of several times with "Les Saisons Viennent," but this isn't like a track off the Amelié soundtrack. It takes few musical turns (like much of Excerpts) and by the end it's curious to wonder how long the track has been. It feels like it could have been 20 minutes of French, not a little under four.
And then the concern comes. "November 22nd" sings an English a cappella song, sad and sounding like it was recorded out in the open as the wails of an ambulance or police car run alongside the lyrics. I feel like I am leaning out of an apartment window and my spine is chilled.
I welcome the French of "Mirages" and it certainly feels like being in that apartment. I'm in Paris and it's raining outside. Or I'm in America at a Starbucks and it's late at night. It sounds more like something to fall asleep to than to move along to.
And then I feel the first instance of real joy. "Imprints" is like being inside an audio kaleidoscope, but guided safely into a trance through the smooth vocals. In English. Understanding feels good at this point. And before I know it, the song takes a 90s-cum-Dido turn and I am not complaining. This is quite easily the most soothing and yet simultaneously enjoyable song on the entire lazy-afternoon sound of the album.
A fast-paced French keep-me-up, "Envies D'avalanches" ironically mentions going to bed. I also catch snippets of the language, something about light and something about a mouth, as the chorus repeats I want to hear it again and again to learn more. Up and down like a trailer that makes you think to yourself "I'll go see that film." It's got just the European twang in its alternative notation to reel me in, wantingly. Especially with the unorthodox end to such a build up.
And then the ending "Before Night" comes uncomfortably. It settles into an instrumental black void that sucks you away, assuring you that this is in fact the last sound, the end, for the entire 2:14 second-half of the song. It's like being lowered into your grave, but maybe that's because I had to lie down to listen to it.