Reviews
Grouplove Gets Down With an Energetic, if Not Slightly Scattered, EP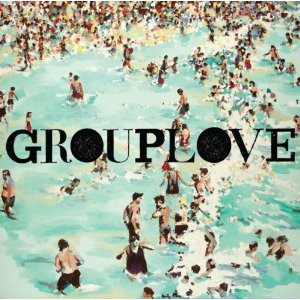 Grouplove EP Grouplove
Release Date: Jan 25, 11
1
2
3
4
5
6
7
8
9
10
There are many aspects of a new band to appreciate. Call me cynical, but there's something refreshing about hearing a band that hasn't been around the block. With their self-titled EP, Grouplove brings a sense of joy and excitement to their music that I haven't heard from a band in some time. Does this excitement pull a listener in one too many directions? At times, but come on…it's January. Everyone could use a little excitement.
Even though most of Grouplove's music seems to operate on the premise that one is the loneliest number, the opening track "Colors" starts on a rather solitary note. The result is downright meditative when compared to the rest of the rollicking track. "Colors" expands with the addition of the remaining band mates (five in total, so this isn't exactly the next coming of Edward Sharpe and those Magnetic Zeros), and full guitar parts. As much as I like the male voices that Grouplove offers, Hannah Hooper's delicate voice tugs on my heartstrings. She's the only female in the band, and when her breathy little voice chimes in for some harmonies, she immediately lifts the track up even more.
"Naked Kids" is the kind of track that belongs to those young, precious bands. This isn't a hardened track about the difficulties of relationship, or any topic du jour. A lyrical sample: "cruisin' down the highway with my friends/top down/and we're all on our way to the beach." Maybe I'm missing a metaphor, but "Naked Kids" is basically a song about how awesome it is to have friends in the summertime. And yet, my otherwise hardened soul actually enjoys it. It's not revolutionary, but it's moving nonetheless to hear a band so obviously happy to have gotten together.
Here's where the band goes in a wildly different direction. "Gold Coast" slows everything down, and the change in pace reveals one thing: for Grouplove, solo vocals should never be center state. The song doesn't really improve until the last third when everyone joins for a stirring send-off. "Getaway" is slightly richer, thanks to Hooper's harmonies, and the feedback-friendly guitars.
Chalk it up to a short attention span, but the shortest track on the album is the one I can't stop listening to. "Don't Say Oh Well" features an upbeat melody that will have you bopping along whether you fancy yourself a boppier or not. There are a few spoken responses that walk the line of lameness, but the ensuing hand claps make up for the contrived exclamations.  Yup. Hand claps save the day again.
Unfortunately, nothing short of a hand-clapped chorus could save the final track, "Giddy", from sounding like a terrible sad song from the 90s. Hooper's harmonies suddenly sound tired, and the whole thing belongs on some past installment of VH1's Storytellers.
The EP is generally promising, with moments of confusion when the tone turns from "beach time fun!" to "depressing VH1 special." However, Grouplove is still young, so here's hoping that they get these otherwise dull songs out of their system.