Features
Crate Digger 101: The Original Wilcos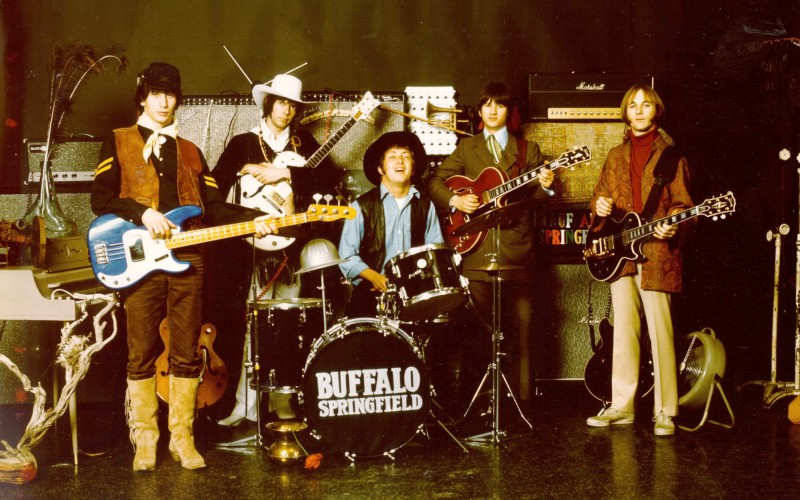 One thing I really dig about crate digging is that it's fun to see the influences artists on other artists. Just look at the most influential band of all time, the Beatles. I like to name bands influenced by each album: Oasis is Sgt. Peppers carried forward, while ELO seemed lovingly lost on a Magical Mystery Tour. Teenage Fanclub is the continuing evolution of Revolver and the whole power pop movement (Shoes, Pezband, Cheap Trick, 20/20, Off Broadway) were jacked up variations of Meet The Beatles. This lineage of stylistic extraction is of course a bit over simplified, but it does make for fun listening and discussion.
I recently picked Grin's self titled second LP and was struck by how much it reminded me of Wilco. Clever, catchy and yet always unpredictable, Wilco's palette of crunchy pop, with strains of rootsy acoustic guitar, is a fairly unique sound today. But spinning track one side one on Grin, Like Rain, I can hear the same types of groove going on. Nils Lofgren, the leader of Grin, now with Springsteen has a high pitch to his voice. He also plays some mean ass guitar.
Speaking of mean ass guitar, The James Gang was an American version of the power trio as established by Cream and the Jimi Hendrix Experience. True, the James Gang could rock out, propelled by Joe Walsh's heavier lead guitar moments, like Funk #48, a funk rock stomper off of Yer Album, the debut released in 1969. But they had a moodier side as well, exemplified by "Take A Look Around" from the same LP. The James Gang Rides Again, and Thirds albums are great finds in the record racks, and often available at a good price.
One of the greatest American bands ever, Buffalo Springfield released only three albums between 1966 and 1968, but established the folk rock style carried on by Crosby Stills Nash & Young, Byrds up through modern sound creators like Wilco. I mean how can you go wrong with Neil Young, Stephen Stills and Richie Furay (soon to be Poco founder). Their second album, Buffalo Springfield Again is a true gem; with the moody Neil Young penned "Expecting To Fly" alongside the rockers "Mr. Soul" and "Rock & Roll Woman." And "Broken Arrow" is one of Neil's most cinematic tracks ever.
Like Wilco, Mason Profit was also a Chicago based band, rising from the ashes of the 60's sensations the Sounds Unlimited. Many consider Mason Profit one of the under appreciated fore runners of country rock. They released five albums between 1969 and 1973, and all pretty awesome. Led by the Talbot brothers' great harmonies, "Two Hangmen," off of the first LP, "Wanted," is an FM radio classic message song. Mason Profit recalls the earlier alt-country Wilco songs like the trucker ode Hard Luck Woman. Listen to "Everybody Was Wrong" from Movin' Toward Happiness and hear the sad hippie in the country vibe Wilco has built upon.
On the folksier side is the duo known as Brewer & Shipley. They put about ten records, but their masterpiece is their second, Weeds, in 1969. A lot of great musicians play on the record, including Nicky Hopkins and members of Electric Flag and Big Brother & the Holding Company. Like Mason Profit, their vocals are two-way harmonies between Mike Brewer and Tom Shipley. Weeds include the incredible versions of All Along The Watchtower and Witchi-tai-to. This record came out two years before they had big hemp hit with "One Toke Over The Line," and it's often in the racks for a good price.
Crazy Horse is best known for backing Neil Young, but put out some killer Americana rock albums on their own. Their self titled debut features the talents of Nils Lofgren, Jack Nitzche and Ry Cooder, and has a crazily fantastic batch of songs. The album is a Wilco-style rockin' melancholy masterpiece. They put out another great record in 1978, Crazy Moon, which is also well worth keeping yours open for when digging through the vinyl bins.
The Youngbloods started out on the East coast folk scene, and then moved westward to become part of the San Francisco psychedelic scene. Jesse Colin Young was the main singer songwriter of the group, and they had a huge hit in 1967 on their second self-titled album with the track "Get Together." But their next album, Elephant Mountain, was their real masterpiece. It contains the excellent "Darkness Darkness," an early FM radio classic that starts off brooding and builds to a rocking climax.
John Prine was a mainstay on the Chicago folk scene in the late '60's. He started putting out albums in 1971, and all are highly recommended, especially the first four on Atlantic. His lost dog Kentucky bourbon drenched voice has fun with ditties like "Illegal Smile" on his debut. Prine looks a lot like Jeff Tweedy on the cover of his great second album, Diamonds In The Rough.
David Blue was another member of the Greenwich Village folk scene. He put out six albums from 1966 to 1975. His self -titled debut is a set of killer folksy blues-rock, with a little nod to Dylan, with a lot of up-tempo organ driven jams like "If Your Monkey Can't Get It." If you ever see it, grab it!
A lot of these artists are filed under FOLK or tossed into ROCK bins, depending on the store. So I always recommend taking a few minutes to scan the FOLK bin for a few hidden treasures before making your way to the cash register.