Reviews
Charles Bradley: Great Horns, No Hooks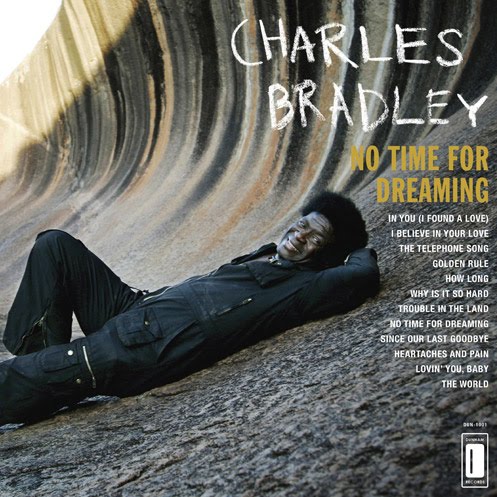 No Time for Dreaming Charles Bradley
Release Date: Jan 25, 11
1
2
3
4
5
6
7
8
9
10
When it comes to music there are two things I am a complete sucker for: horns and hooks.
I love it when an artist incorporates horns into their sound. I don't care if its rock, blues, soul, reggae or ska I just love them horns. I wasn't a band geek or anything. I have no particular reason to be attached to the sound but it wins me over almost every time. I also love a good hook; the meaty part of a song that you find yourself singing for days after you hear it.
So for me, Charles Bradley is batting .500 on his new release No Time for Dreaming. The horns are exceptional providing strong accents to great music on almost every track. Unfortunately what the album has in horns it lacks in hooks. So many of the songs are really good as they build up to a crescendo and then, nothing! No memorable hook to make the song stick.
Bradley has truly had the life of a bluesman. He grew up poor. He overcame tragedy including his brother being shot by their cousin. He's lived and worked in places stretching from the east coast to California and even Alaska while pursuing his dream of being a performer. The emotion and scars of those travels comes out on No Time for Dreaming.
Now he is part of the Brooklyn-based Daptone Records family a musician-owned and run label that claims to, "channel the spirits of bygone powerhouses like Stax and Motown," and on this record they are living up to their billing. At times during the album it's easy to make comparisons to Marvin Gaye and Bradley's idol James Brown while many of the songs could easily have been recorded by the Stax Records house band.
Unfortunately the hooks just aren't there. There's no "I got soul and I'm super-bad," or "When I got that feeling I want sexual healing," to be had. Several songs including "The World is Going Up in Flames" and "Why Is It So Hard," have socially conscious messages similar to the gravity found in Gaye's "Mercy Mercy Me," just without the great hook that makes the song stick.
For anyone who enjoys soul music tracks like "No Time for Dreaming" will make for a good listen. But to reach his full potential Bradley should spend some time dissecting the song structure of the artists he idolizes focusing on what makes their tunes so memorable.
Best Part: The music, especially the horn section, pays homage to soul greats like James Brown and Marvin Gaye.
Worst Part: Great songs without good hooks leave the listener without anything to make the release truly memorable.