Features
Win A Copy of the Get Up Kids' New Album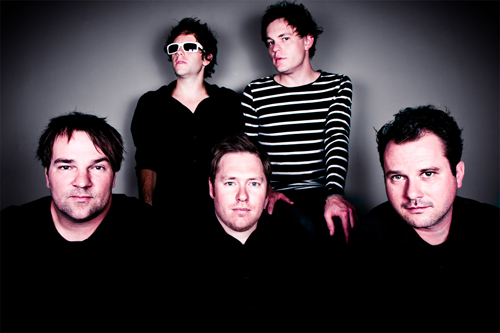 If you grew up in the Midwest, you were most likely exposed to a hoard of emo bands.  I know from personal experience most weekends in high school were spent at the VFW hall or taking trips to the 18+ venues in the city to watch the "hottest" band, garbed in plaid shirts and Vans.  In Chicago we have Fall Out Boy and the Academy Is but in Kansas City they have the Get Up Kids.  The Get Up Kids has been a launching pad for many newer acts such as Spoon, Reggie and the Full Effect, and New Amsterdams but nothing can beat the original product.  Though the side project in between their break-up remain fruitful there's still something about the songs on Something to Write Home About that sparks a wave of nostalgia in the 20-somethings of today.  The band regrouped in 2009 and fans have eagerly waited for new material from the them.  Now they are being rewarded with the release of their 2010 EP Simple Science and their upcoming full-length There Are Rules.
The boys' sharp sense of style has evolved over the years for A-typical emo to include elements of their side projects.  There Are Rules takes a different turn than their past albums and adapts to a newer, older Get Up Kids fan.  Sometimes this can be a disastrous choice for a band.  Look at Panic! At the Disco's Pretty Odd.  But the single "Shatter Your Lungs" proves that the Get Up Kids may be a different band than they were in the late 90s but they aren't stupid.  They've constructed a strong set of songs that will appeal to old and new fans alike.  You can pre-order There Are Rules with exclusive material through their store.  The album drops January 25 on the band's own Quality Hill Records.
Heave readers can win a copy of There Are Rules and Simple Science EP simply by RSVPing on our Do312 page.  Two simple clicks enters you into the contest.  One winner will be chosen at random on January 28.  Good luck!
Media
Audio clip: Adobe Flash Player (version 9 or above) is required to play this audio clip. Download the latest version here. You also need to have JavaScript enabled in your browser.