News
Thank You announce tour, debut new song and video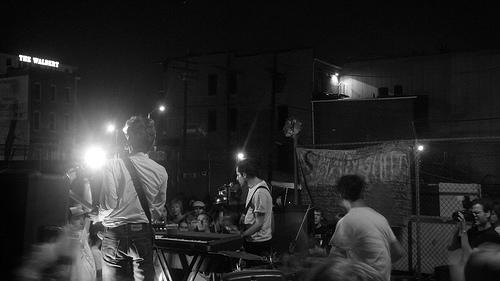 Thank You is actually a pretty clever name for a band. I mean, how many times are you getting free publicity just because people are polite to each other? A lot. Baltimore's Thank You are more than just a clever name, though, as the band has already solidified themselves into the post-punk "no wave" nestle. The band now preps for their third full-length release entitled Golden Worry!
And what better way to prep your release than hitting the road, releasing an mp3 and video? Golden Worry comes out January 25, which just so happens to be the day the tour starts.
Jan 25 Brooklyn, NY Glasslands w/Daniel Higgs, Soft Circle
Feb 10 Easthampton, MA Flywheel
Feb 11 Troy, NY 51 3rd Street
Feb 12 Brooklyn, NY Death By Audio w/Double Dagger
Feb 13 Philadelphia, PA Younglove's w/Dustin Wong
Feb 16 Charlottesville, VA Twisted Branch Tea Bazaar
Feb 17 Chapel Hill, NC Nightlight
Feb 18 Raleigh, NC Berkeley Cafe
Feb 19 Charlotte, NC The Milestone
Feb 20 Charleston, SC TBA
Feb 21 Knoxville, TN The Pilot Light
Feb 22 Chicago, IL Empty Bottle
Feb 23 Ann Arbor, MI TBA
Feb 24 Toronto, ON Teranga
Feb 25 London, ON TBA
Feb 26 Providence, RI The Soft Approach
Have a listen to "1-2-3 Bad" below, and watch their new video for "Birth Reunion." Once again, Thank you.
Thank You – Birth Reunion from Thrill Jockey Records on Vimeo.
Media
Audio clip: Adobe Flash Player (version 9 or above) is required to play this audio clip. Download the latest version here. You also need to have JavaScript enabled in your browser.