Reviews
While Colorful, the Butterfly Explosion Doesn't Stick to the Walls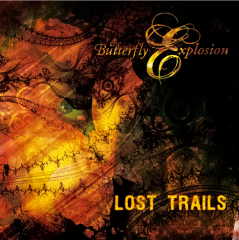 Lost Trails The Butterfly Explosion
Release Date: Mar 01, 10
1
2
3
4
5
6
7
8
9
10
From Ireland, newcomers the Butterfly Explosion are looking forward to releasing their first album internationally, Lost Trails. This five piece has already garnered much attention last year in Europe and hopes to do the same in the States.
Some attitude. It is the prime element missing from Lost Trails. If the motivation behind this album was that the band found lost trails, the trails don't seem to lead anywhere. As with the void in attitude, the emotions that come across seem manufactured, as there is a singular tone on the album that peaks within the first four tracks. Each song seems to be in the direct shadow of one another, not allowing each one to breathe. And this tone has a very thick texture, which makes the album feel longer than it is.
The opening track, "Closer," begins promising enough with an inviting bass line. Yet it doesn't take long before Gazz Carr's voice gets lost in guitar washes and drowns within the instrumentation, which keeps the albums heartbeat going, at least. Songs such as "Sophia" and "Crash…See You On The Other Side" have long, beautiful moments, but these shoe-gazing moments have been done before. Before, as in 1996, or 2001. And these beautiful moments are overshadowed by naïve, teenage, lyrics. On "Chemistry": Bring me down to where you sleep/ Sooth me now/ sing with my screams. Or on "Nearer Sky": High streams/Guide me through clouds/Here you fall/Now heed their call/Open your eyes/The sky breathes tonight. And what of song titles such as "Turn Into You"? "A Newer Sky? Written on a desk in a high school poetry class.
One bright spot on the album would have to the song "Automatic". Clocking in at nearly eight minutes, it opens with a powerful arrangement of storm-like thrust. With the absence of lyrics on this track, the piano and bass get to flourish. Throughout this album's journey are some cool background effects and tweaky noises, which don't seem over-produced or come across as cutesy. And most of the song intros are warm, and beckon to be drawn back into before the songs' end. Unfortunately, these tracks don't hold flight and cannot overcome mediocrity. As with the band's name—and album title for that matter—this is a sophomoric effort at best. One might be able to elicit a more positive response if this were their friend's band, or some Friday night find in a college town. But as it is, psychedelic-pop is best pulled off when the band isn't afraid to experiment as opposed to playing it safe in sonic clichés.