Reviews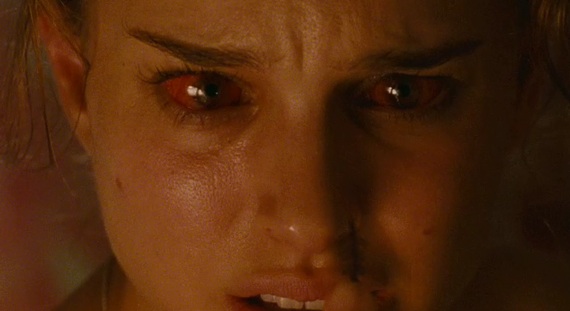 Black Swan Dir. Darren Aronofsky
Release Date: Dec 03, 10
1
2
3
4
5
6
7
8
9
10
In Black Swan, one of the best films of the year and a sure-fire Oscar contender come awards season, director Darren Aronofsky tackles the relationship between performer and performance. The question is, how deep can an artist submerge themselves in their craft before their work consumes them?
The subject of Black Swan is Nina Sayers (Natalie Portman), a professional ballerina cast as the lead in her dance company's production of Swan Lake. Not only does Nina have to deal with the pressures of her controlling mother (Barbara Hershey) and the advances of the company's artistic director (Vincent Cassel), but she also faces competition from a rival dancer named Lily (Mila Kunis), whom Nina sees as both a polar opposite and a reflection of herself.
In Black Swan, Aronofsky combines the stylistically raw aesthetic of The Wrestler with the surrealist nature of his earlier work. Having paid his dues, and using major star power, this may finally be the film that gets him the credit he deserves. It's a genuine psychological thriller, the old-fashioned kind where you're never quite sure what's real and what's not. Although the parallels between the film's story and Swan Lake are ridiculously obvious, they are no less effective. Working with a script that could have felt clichéd in another director's hands, Aronofsky has created something that's as bold and brash as it is brilliant and beautiful.
Portman's daring and visceral performance as Nina makes her an early favorite to not only be nominated for but win Best Actress. This is the kind of role that all actresses would kill for, but which few could actually pull off. Here, she puts to rest any lingering doubts her often cringe-worthy performances in the Star Wars films may have caused people to have. Nina is weak, and vulnerable, and although she is also incredibly driven and talented, she is so fragile that as things in her life spin increasingly out of control, it becomes clear she is hopelessly destined to break. Portman's ability to show how Nina's insecurity unravels her and drives her over the edge is uncanny.
Kunis, on the other hand, is incredibly strong. By now it's clear that the girl from "That 70s Show" has an undeniable presence on the screen. Lily keeps us constantly guessing, and the viewer is never really sure how much Lily is really out to get Nina, and how much is just in Nina's head.
In addition to Portman and Kunis, the supporting cast also turns in largely brilliant performances. Vincent Cassel is the perfect mixture of creepy and suave as Thomas Leroy, Nina's lecherous director, and Barbara Hershey may be a Best Supporting Actress contender as Erica, Nina's overbearing stage mom. Her archetypal turn as the parent who wants their child to succeed where they couldn't adds a lot to Portman's character. Winona Ryder also has a small role as the company's washed-up prima ballerina. Interpret the casting choice as you will, but it's hard not to be reminded of the parallels between actor and character (Aronofsky went a similar route casting Mickey Rourke in his last film, The Wrestler.)
Like some of his earlier films, Aronofsky has bestowed upon Black Swan an innate craziness. This is a movie that builds from start to finish, and will have you on the edge of your seat guessing what happens next all the way to the end. With Black Swan, Aronofsky has created a masterpiece that's erotic, lovely, and terrifying, and proven that he's one of modern cinema's most visionary directors.