Reviews
The Suzan Bring Debut from Across the Sea: Japanese All-Girl Group has a few things to teach American Contemporaries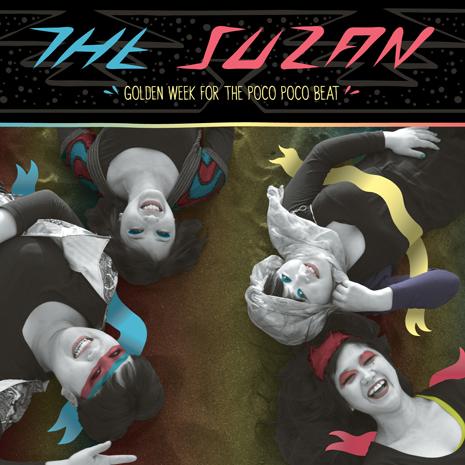 Golden Week for the Poco Beat The Suzan
Release Date: Oct 26, 10
1
2
3
4
5
6
7
8
9
10
The Suzan is a riotgrrrl influenced, all girl pop band from Japan. Being a Japanese all-girl group inevitably evokes certain images of young girls in bright matching outfits, making cutely simple pop tunes loaded with giddiness. For most of the Japanese girl groups I have heard this seems to be the case, but The Suzan are most definitely an exception. While they are indeed cute girls with an idiosyncratic sense of fashion, the group, composed of sisters Saori and Rie, and friends Nico and Ikue, have a large amount of technical skill and a great feel for atmosphere. This is not the sugar-coated three chord j-rock simple descriptions may lead you to believe. Produced by Bjorn Yttling of Peter Bjorn and John, Golden Week for the Poco Beat is filled with mounds of great pop, a healthy dose of experimentation and what must be referred to as oodles of dance inducing fun.
The album begins with single "Home", which itself begins with some giddy keys that sound unmistakably similar to those of the Beastie Boy's "Girls". Once these keys establish the mood, Ikue comes in with a slithering bass line that syncs perfectly with the African inspired tom-heavy drums. Saori's sunny voice (a near accent less English, I must add) leads the song, followed just behind by the vocals of the rest of the group. About 2/3 of the way into the song Rie breaks into a 50's inspired riff that rocks pretty hard, which is followed by a sweet kick-drum group vocal break which smoothly flows back into a nicely built-up concluding chorus.
Standout track "Ha Ha" will definitely have you slapping the rhythm on your lap while bobbing your head back and forth. One of the cutest tracks on the album, "Ha Ha" features some mesmerizing vocal arrangements, which bring to mind great all-girl groups of the 60's such as the Shangri-Las and The Ronnettes. "Come Come" mashes African drums and tropacalia sensibilities with Saori's uninhibited vocals for an insanely bouncy tune.
Another standout is "Uh Ah", a darkly atmospheric Southern blues influenced journey with loads of call and response vocals, and the perfect beat for snapping to.
"London Tonight" is the most punk-influenced track on the album. Culling together equal parts riot grrrl  bands such as Bratmobile or the Sand Witches, and the eclecticism of The Clash, the track retains the giddiness of most earlier tracks, but is bonded with a harshness that says that these girls may be cute, but touch them and they will kick the shit out of you.
This is an album filled with a number of unexpected twists and turns. While relying on a consistent quirkiness, these girls are able to crank out songs with innumerable style nods, while fusing each so effortlessly that the end product is all their own. Perhaps a bit too happy-go-lucky for some, for others this may be the perfect album to put on to get ready for a little bit of fun. It's obvious these four girls are having plenty of it.