Reviews
The Octopus Project Dive Into a New Project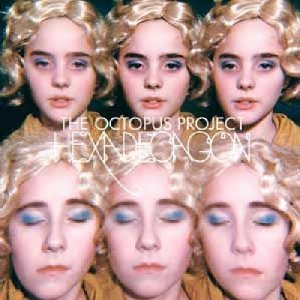 Hexadecagon The Octopus Project
Release Date: Oct 26, 10
1
2
3
4
5
6
7
8
9
10
The Octopus Project is one of those anomalies in the indie rock world. Unlike dance-rock darlings The Go! Team or French-atmosphere enthusiasts Air, The Octopus Project have consistently managed to surprise me. Personally, I chalk it up to the Austin, TX natives' ability to all play each others instruments (they frequently switch it up live) and collaborate in new ways that enables them to consistently craft deep, highly catchy, somehow black magic-y dance rock with such vigor on each release.
But ever since their formation in 1999, they've kept things pretty standard. Not a bad thing, at all; "Tuxedo Hat" and "The Adjustor" are still favorites for throwing on when I need to impress someone with something they just haven't heard before. But the newest release, Hexadecagon, takes things one step further, and from the outset, even the newest fan can tell this is some force of nature to be reckoned with.
Hexadecagon, to start, is only 8 tracks long. It began as a full-set performance piece. A bit Dan Deacon-ish in theory, but that's as far as the comparisons go. The instrumental dance-pop is still there in full force, but this time with a much heavier dose of looping synths and an elephant's helping of ambiance. Couple that with their ability to create super-tight guitar riffs–that plunk out as something in between synth and guitar on this record–and you have a unique album from any angle.
It's not for everyone though, and the 8-track album with 8 minute and 11 minute tracks isn't for everyone. There are times when you realize this is clearly a new sort of first effort for the band. "Circling" has some of the best hooks, but lingers on for far longer than needed, even an electronica track. "Fuguefat"'s piano riff that starts the entire album is interesting, but for anyone familiar with the genre, it's not original enough to really snag the listener from the get-go ("Fuguefat" does pick up, however, just as a lead-off track, the first minute might need a bit more oomph).
All in all, Hexadecagon is exactly what it says it is: a performance piece centered around 8 tracks, originally played with 8 speakers that surrounded an audience with the band in the center. That's exactly what is delivered in the album. Slip your headphone on for the full experience and prepare for 48 minutes of sine-like waving happiness.