News
N*E*R*D* And Daft Punk Create An Outer Space Love Song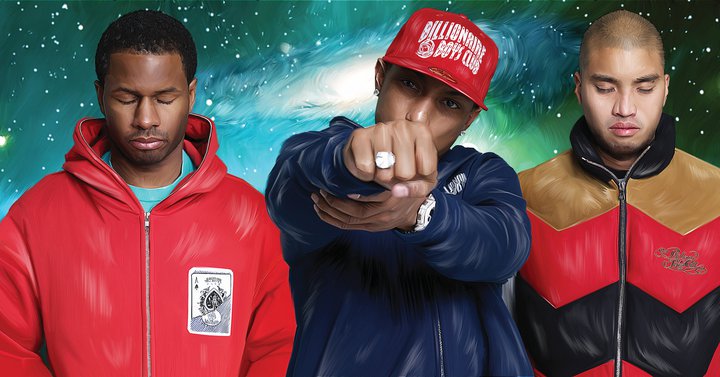 There's nearly no one genre that you can say N*E*R*D* falls into. Maybe mashing a few together may help: tech-R&B, electronica-hop, hip-punk-no. Honestly the number of musical subgroups N*E*R*D* could fit into depends on what song your streaming through your ear buds. Recently N*E*R*D teamed with legends Daft Punk to create a 2001: A Space Odyssey inspired love and first sight bedroom beat for their upcoming album Nothing.
Originally debuted live on the David Letterman Show, "Hypnotize U" contains space-themed tones from Daft Punk, a steady bouncing beat and Pharrell whispering sweet nothings to a lady friend (presumably while in bed). Between verses from the falsetto-voiced Pharrell, the hip-hop star mixes the whispering of sexual statements, weaving a pseudo chorus for the song. Surely Pharrell doesn't have to perform any hypnotizing to the ladies for them to sleep with him, but we guess it wouldn't hurt to have a little fun with it.
The formal release of "Hypnotize U" marks the second single (Hot-n-Fun being the first) off N*E*R*D*'s fourth studio album Nothing. Hopefully this won't be the end of future Daft Punk collaborations, but if it is at least get together and make a video, eh? What we've learned from N*E*R*D*'s frequent musical genre ménage à trois over the years: they can go from love to hate depending on what track number you're on. Have a listen and weigh your thoughts on how French duo meshes with N*E*R*D*. Remember: "If I'm not beside you I'm inside you." Hah, Nothing in stores November 2.  Stream "Hypnotize U" below.
Media
Audio clip: Adobe Flash Player (version 9 or above) is required to play this audio clip. Download the latest version here. You also need to have JavaScript enabled in your browser.